Why would someone use Audience? What's the hook that will make Audience a must-use email marketing tool, is just using your own email provider enough? These are just some of the questions I've been asking myself a lot recently, right after I ask what coffee beans will I use today.
So I kept thinking about building a new editor, one that gives users a great writing experience and makes Audience stand out.
Well, I didn't want to make it too easy for myself.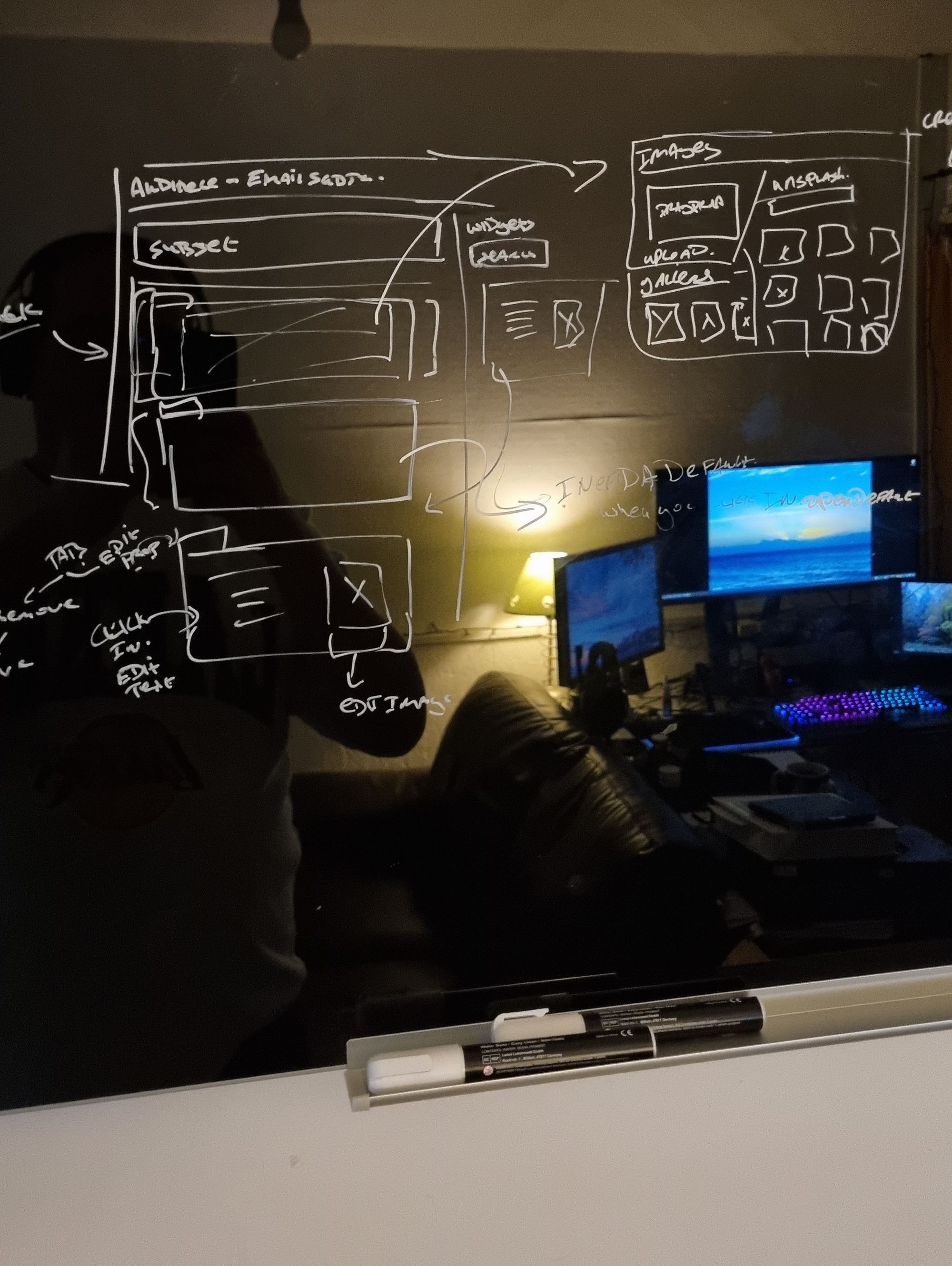 The Editor
I want an editor that stays out of the way but still offers features I need when I need them. I should be able to create an email that has 3 lines and a link the same as creating an email with links to my last 6 blog posts and a favourite podcast episode.
Widgets
The new editor will support widgets, these can be described as pre-built sections of the email.
For example:
Banner Image - This would be a widget that has an image the full width of the email.
Image Left / Text Right - This would be a widget that has text on the right and an image to the left, (fully responsive as well)
Once you add the widget to the email, you can add the image you want to use and then the text, etc.
You will be able to customise the widgets and create your own widgets to use.
Images
I'm going to build a gallery of images you can upload images to and reuse them on different emails easily. I'm also thinking of linking into Unsplash. Allow you to search for images to use in the email.
I'm also a photographer, so I'm planning on creating a small gallery of photographs that are exclusive to Audience so users can use them in their emails. These images will be ready and optimised for emails right away.
Templates
Audience needs good templates, another part of that friction I was telling you about, if there aren't good templates for you to use, you will go somewhere else.
So I want to do a few things with the templates, I want to create some really good templates you can use, but I also want to make it really easy for you to clone, customise the templates, and also create your own templates. So if you get an email you like to use, you can just set it as your default template and go every time.
I want to be able to use the new editor and widgets to create the templates. So that the different parts of the templates are already widgets and already available in the system for everyone to use.
Typography
The editor should support fonts, being to add custom fonts to the email, but also styling the text. Change the size and weight of the fonts, etc.
Styles
It's ok for emails to use CSS, there are just a few rules, it has to be contained in the email, either in the header or as inline styles. So I want the editor to be able to do that.
Testing Emails
I want the editor to be able to test the emails and show you how they will look in different viewports and email clients.
Make sure all the links work before the email is sent. I already have a preview function so that will be there too.  
My Newsletters
I am going to get more serious with two newsletters for 2023, these will start out as monthly but I'm open to changing that.
The first newsletter is for this blog, I've started a new series of posts recently about bootstrapping, I've been trying a few different names for the series but I'm going with "Building my SAAS" as of this post being written.
The other newsletter will be for Audience, it will be all about email marketing.  How to guide, tips and ideas to improve your email marketing, etc.
Both newsletters will have a mix of my own content and then curating content I find interesting or useful.
Thanks for reading, I'll be sharing more updates as I work on the new editor so don't forget to stay tuned. Let me know if you have any ideas or thoughts to share.